Some Webcam Shots
from Cheesefest III
Fri. July 30 to Sun. August 1, 1999
Fugue was kind enough to set up a webcam so he could share Cheesefest with those who couldn't attend.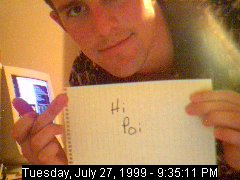 Testing... testing...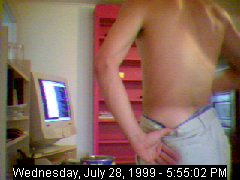 Lookit my tan line!!%#@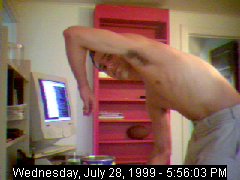 Julia Roberts got nothing on Fugue.
Stryfe's brother got a little concerned after Stryfe didn't call home when he arrived at Cheesefest.
Now, on to the party!!
PAGE 1
PAGE 2
PAGE 3
PAGE 4
PAGE 5
PAGE 6
PAGE 7
PAGE 8

And you can get even MORE photos/video captures from this party (including "Naked Pokey")!!